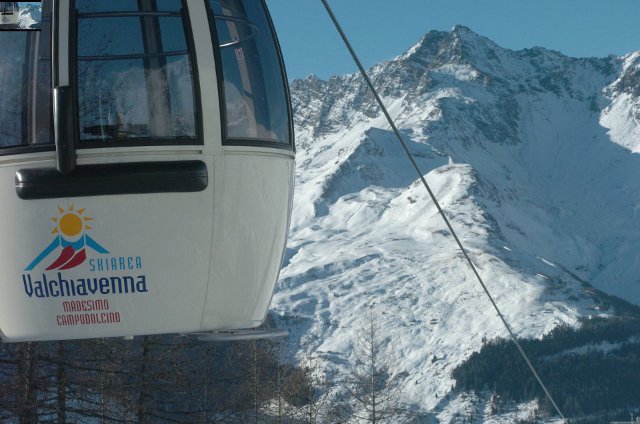 The ski-area of Madesimo and Valchiavenna is located in Lombardy (only 138 km from Milan), north of Lake Como and few minutes from the Swiss border.

Thanks to the geographical position of the ski-area, its favourable climatic conditions and the artificial snowmaking system, the ski season can start in November and go on until late spring.
The ski-area has more than 60 km of downhill slopes and 25 km of trails for cross-country skiing, the total surface area being spread over the municipalities of Madesimo, Campodolcino and Piuro.
The Sky Express, the most modern underground cable railway in Europe, climbs the 638 m that separate Campodolcino from Motta in only three minutes, where you will find slopes connected with and served by all the ski lifts of the Ski-Area. Thanks to an ample and convenient parking area, access times can be reduced and you can fully enjoy your day on your skis.  Without any environmental impact – the work is entirely hidden in the mountain – a solution has been found for an almost complete closure of Madesimo to traffic.

The ski lift system has been entirely renovated during recent years. As well as the cable railway, automatic coupling chair-lifts with dome-shaped protection, programmed snowmaking systems, modern means for trail beating, snow/fun park, ski-slopes meeting the standards set for international competitions and new bars and restaurants are only some of the works that have been undertaken up until today and that have allowed this resort to reach the level of the best ski resorts in the Alps.
Important skiing, carving and snowboard competitions are held in a reserved area at Arlecchino on the FIS Montalto ski slope, which is among the best for variety and difficulty for high-level competitions.

Many are the restaurant facilities in the ski-area and there are even some innovations in the area of Baita del Sole – Lago Azzurro where the slopes, wending their way down towards the village of Madesimo, have been redesigned and equipped with programmed snowmaking systems.

The variety of the ski slopes, the tracks in the high mountains and through the woods, the advantage of being able to reach the village on skis, the walks in the pedestrian precinct are the features that make Madesimo one of the most hospitable and famous tourist resorts in the Alps.

On the snows of Val di Lei stands out the new self service mountain hut where you can rest for a few moments before skiing down to the valley along the famous "Canalone", that connects Pizzo Groppera to Pian dei Larici, once defined by the famous writer Dino Buzzati: "the fantastic scenery…the charm of the intimate atmosphere…. a cool thousand metres of difference in altitude, three and a half kilometres of slope…you will feel yourself opening up before this overwhelming wonder….it is the best slope in the Alps".

VALCHIAVENNA MADESIMO "Not only skiing"
Entertainment, culture and gastronomy

Watch the video!