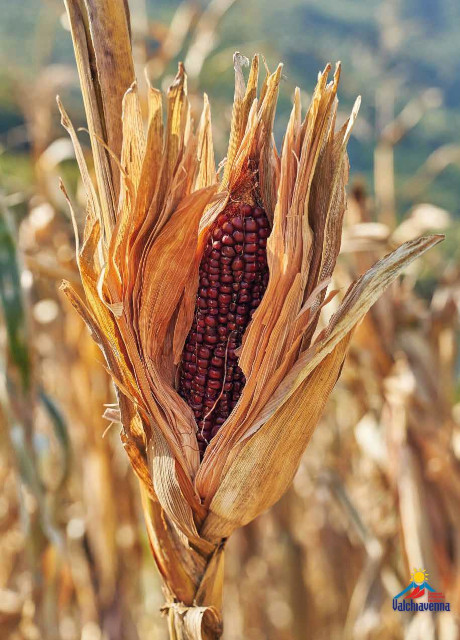 ROSTRATO ROSSO DELLA VALCHIAVENNA IS AN ANCIENT VARIETY OF CORN WITH A PARTICULAR SCENT. ITS REDISCOVERY IS CLOSELY INTERTWINED WITH THE WORK OF A COUPLE OF YOUNG AND PASSIONATE FARMERS WHO HAVE REVIVED ITS CULTIVATION.



Older farmers will remember the variety well enough. They would often come across red cobs in the cornfields of the Valchiavenna plain between Gordona and Samolaco. Instantly recognizable for its ruby-coloured grains and a pointed "beak" that scratched hands which were twisting the cob to release the grains destined for grinding. Thanks to a project launched in 2015 which has occupied the Faculty of Botany of the University of Pavia alongside the local Comunità montana, today that one-of-a-kind corn has a name: "Rostrato Rosso della Valchiavenna"."Rostrato" because of the spur present at the tip of each grain, and "rosso" for its particular colour. Research conducted by the university made it possible to identify the germplasm of Rostrato Rosso, isolating its hereditary material and preserving its genetic biodiversity.

This valuable heritage was made available to any farmers willing to sow the Valchiavenna corn in order to foster its recovery. And so begins the story of Elisa, who together with her family runs a farm business specialising in the cultivation of small fruit in an area that had been abandoned for many years, owned by the Municipality of Samolaco. With investment, sacrifice and passion (lots) the couple cleared out all the reeds from the available three hectares, establishing three large greenhouses and over time securing a good part of the market amongst the patisserie, private individuals and shops in the area. And all something of an impromptu affair. For Elisa. A love story even. Suddenly grabbed by the very idea of trying to sow an ancient corn and to nurture an almost forgotten local product. Her idea is to work it according to the techniques of the past that involve the harvesting and shelling of the cobs by hand, followed by slow stone grinding. What it produces is a dark corn flour with shades between yellow and orange, with an intense and authentic aroma, perfect for both desserts and polenta. This year has seen the third successful harvest. The origins of Rostrato Rosso largely remain a mystery. It&´s cultivation in Valchiavenna is documented as early as 1800, but its use is certainly older. Cobs very similar are present in Valle d&´Aosta (il Pignoletto Rosso) and in the Po valley. But produce from each area has its own particular characteristics developed over the centuries. And we should clearly recognise the commitment, energy, time and resources of Elisa and her family which permits us to appreciate ancient and forgotten scents and flavours. An exercise and a farm which merits support from all whilst making available an authentic and extraordinary product.
Contacts
Information:
Azienda Agricola Sertorelli Elisa
Via Trivulzia - Samolaco (So)
+39 338 6093802